Our most advanced in-building technology built into an ERCES Public Safety Solution.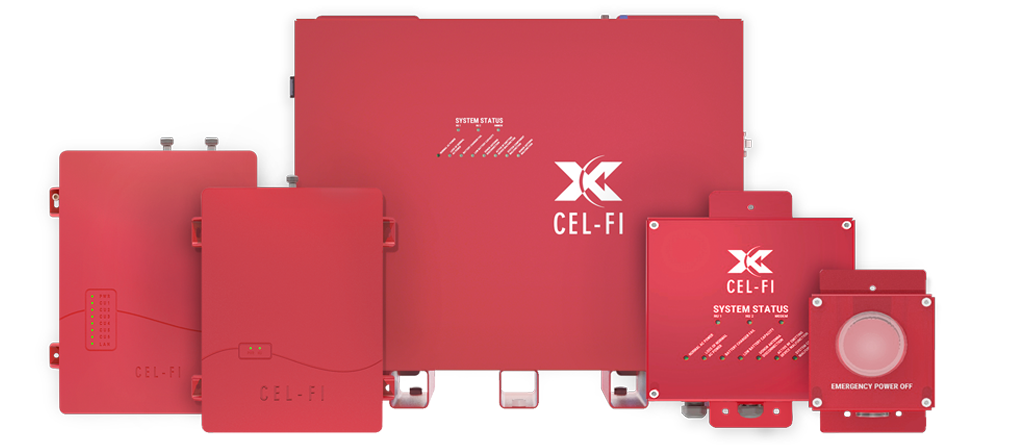 Overview
QUATRA RED is designed to provide consistent coverage in the most challenging building structures and to guarantee full compliance with the most current fire codes.
Class A with 56 Channels
Class B with 28 Channels (100 kHz & 150 kHz)
700/800 MHz for Public Safety with dedicated FirstNet
Automatic Isolation
Automatic Uplink / Downlink Calculation
Talk-out Guarantee
Scalable All-Digital PoE
Built-in Remote Monitoring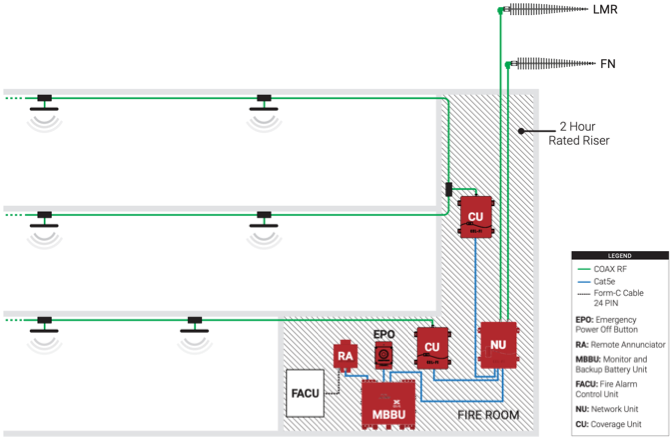 Key Features

Performance Leadership

Ease of Install

Leaders in Value

Fastest Project Timeline

Code Compliant
More Information
The Cel-Fi QUATRA RED Class A or Class B 700MHz/800MHz channelized Emergency Responder Radio Communications System (ERCES) Smart Signal Booster was designed with the needs of First Responders, Building Owners, Installers, and Authorities Having Jurisdiction (AHJs) considered. The QUATRA RED is a complete solution, each component fully-compliant with the current International Fire Code (IFC) and National Fire Protection Association (NFPA) standards.
As the public safety community evolves to include cellular LTE support, the QUATRA RED is the only solution that offers true carrier-grade channelized support for FirstNet. Both LMR and LTE aggregated at the head-end, digitally-distributed over Category cable, and retransmitted through a single serving antenna or DAS field.
QUATRA RED is the first and only solution in the market that can easily be scaled from a single donor "BDA" deployment at 1 or 2 watts to a full-blown (single donor) "Fiber DAS" up to 12 watts.
QUATRA RED is best-in-class with 56 individually configurable channels on the Class A unit and 28 channels with 100Khz and 150kHz bandwidth options on the Class B variant (700MHz and 800MHz) and 1W downlink per Coverage Unit (CU) per band. Best-in-class channelized uplink squelch and micro-processor controlled automatic gain control (AGC) per time-slot, inherited from Nextivity's carrier-grade LTE technology platform, unconditionally guarantees no interference to base stations and optimizes signal quality.
QUATRA RED includes all standard alarms, supports all NFPA and IFC-required monitoring, and connects to Nextivity's carrier-grade, SOC 2 (Type 1)-certified WAVE portal, providing best-in-class on-demand remote monitoring, not just for standard alarms but also to ensure system KPIs.
Where competing products require integrators to purchase pieces and parts from a variety of vendors to create a complete solution, the QUATRA RED solution offers everything from the head end (Network Unit or NU), remotes (Coverage Unit or CU), Battery Back-up and Monitoring (MBBU), Remote Annunciator, Emergency Power-off Switch (EPO), and an As-Built Box. All NEMA 4X rated and optimized together.
Features
Concurrent FirstNet Cellular and Public Safety Radio In-Building Coverage
3G / 4G / LTE / P25 / Analog
Cat 5 (Ethernet) RF lossless distribution
Support for all FirstNet LTE bands (2, 4, 14, 12)

100dB gain
21-23dBm UL power (depending on band)
24dBm DL power per CU
Antenna pointing algorithm to optimize FirstNet donor signals

Support for 700 MHz and 800 MHz
100dB gain
26dBm UL power
30dBm DL power (1W per band)
Class A device with up to 56 channels, 12.5kHz filter bandwidth
Class B device with up to 28 channels, 100kHz, 150kHz configurable via WAVE portal
System delay – approx. 35us@12.5kHz, 15us@100kHz, 13.6us@150kHz
Automatic UL and DL gain setting for Public Safety Channels ensure no interference of critical First Responder communications

Industry best Talk-In and Talk-Out performance due to real-time, slot-to-slot gain control
Total Power consumption (1x NU + 6x CUs) – 450W Max at 48V.
NEMA 4X Rated, listed to UL2524
Remote Management through WAVE Portal.
Cel-Fi COMPASS RED
The Cel-Fi COMPASS RED attachment to the Cel-Fi COMPASS enables installers and integrators to perform Site Surveys that will generate Public Safety Reports (which are required by some states). Some setup is needed in the WAVE Portal before the WAVE PRO app can install the Configuration Packages and Calibrate a QUATRA RED system. The app connects directly to the QUATRA RED MBBU via Bluetooth and can also be used to monitor the Radio Data and view the System Status and Alarms.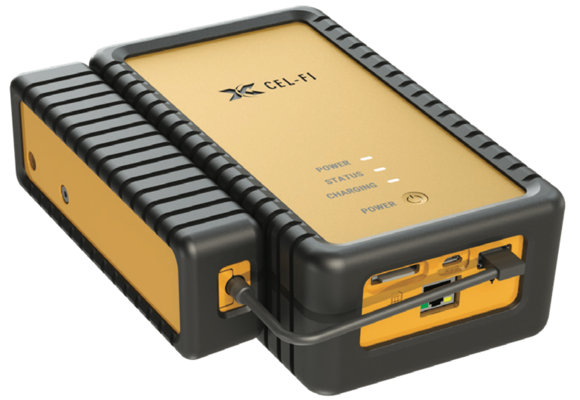 Cel-Fi WAVE Portal
The Cel-Fi WAVE Portal is a cloud-based remote management platform that enables device management and maintenance of Cel-Fi QUATRA RED systems. The Cel-Fi WAVE platform is designed to also work on mobile phones which facilitates ease of use on site.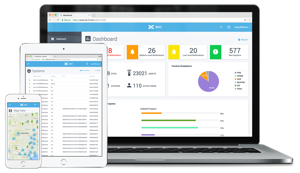 Components
QUATRA RED Monitor & Battery Backup Unit
The Monitor and Battery Backup Unit (MBBU) is the central point of the Cel-Fi QUATRA RED system. It provides constant direct current, alarming, monitoring and battery charging capabilities. An integrated wireless LTE modem and wired Ethernet port provides remote access to all the components via the Cel-Fi WAVE Portal or the WAVE PRO app. The system is NEMA 4 rated and listed to UL2524. Two versions are available to optimize power requirements and installation costs.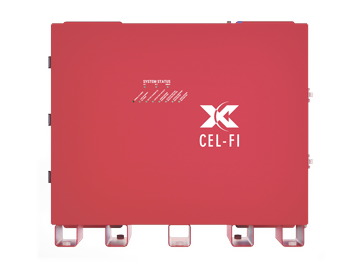 QUATRA RED Remote Annunciator Panel
The Cel-Fi QUATRA RED Remote Annunciator Panel provides automatic supervisory signals for malfunctions of the ERCES solution. Rated NEMA 4, it complies with Chapter 10 of NFPA 72 and section 9.6.13 of NFPA 1221. The PoE architecture allows for a quick installation and alarm configuration. The unit includes a FORM-C cable compatible with any fire alarm control panel (open or short circuits).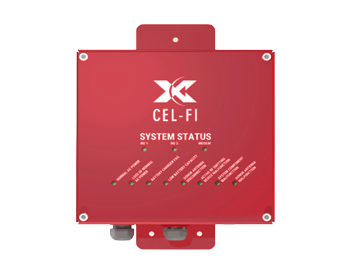 QUATRA RED Emergency Power-off Switch
Cel-Fi's QUATRA RED Emergency Power Off Switch (EPO) can instantaneously shut down the ERCES solution from a single point to eliminate the risk of combustion caused by electricity or static. Designed to prevent inadvertent operation and can be installed in any location designated by the authority having jurisdiction.
QUATRA RED Network Unit
The Network Unit (NU) processes FirstNet and LMR off-air signals digitally to provide reliable and interference-free coverage. PoE based architecture and Cel-Fi patented algorithms for automatic setting of uplink and downlink gain, reduces time and cost of installation significantly, making Cel-Fi QUATRA RED the most compelling public safety solution in the market.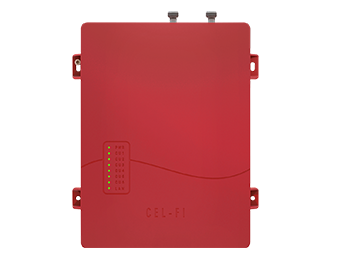 QUATRA RED Coverage Unit
The Coverage Unit (CU) amplifies FirstNet and LMR signals up to 24 dBm and 30 dBm output power. The ease of installation plus the SelfOrganizing Edge Intelligence makes Cel-Fi's QUATRA RED the most compelling solution in the market.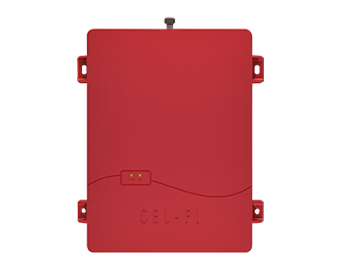 QUATRA RED Active Server Antenna
The Cel-Fi QUATRA RED Server Antenna is an active multi-frequency, omni-directional antenna ideal for Public-Safety applications requiring monitoring capabilities at the component level. Designed for hard cap and false ceilings. It features an N-type female connector and rugged IP20 grade electronics.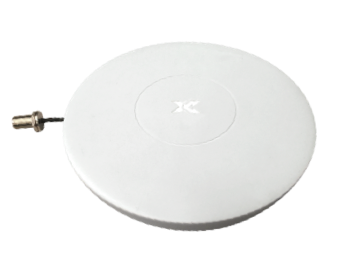 QUATRA RED MBBU Bluetooth Antenna
The antenna is omnidirectional with high efficiency and compatible with the QUATRA RED Monitor and Battery Backup Unit.